Crufts 2014
Wow what a Crufts for Richard and Whizzy !!! Performing their new Cleaning windows routine they won the UK freestyle final as well as the International freestyle competition. This makes Richard the only person to win four uk Crufts freestyle finals with three different dogs. Also at Crufts 2014 Richard partnered up with Mary Ray again to perform and innovative, unique scottish trio routine with the amazing Levi.
Intensive training holidays
All the training camps have been very successful during 2014 and more are planned in 2015. Many of the people who had booked a place in 2014 have reserved a place on a 2015 camp so extra camps may be being put on. In the meantime if you want a individual/small group training holiday staying in your caravan on site with lessons everyday then please contact Richard directly.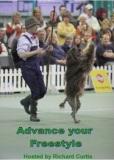 **Advance your freestyle DVD avaliable NOW**
This new DVD is called Advance your freestyle which is aimed at teams who need to progress with their training. It is very much a "thinking persons DVD" as it gives you the strategies to take your own dogs training to the next stage. Take the principles shown to develop your own dogs strength moves and create that winning performance.
Monthly workshops, 1-2-1s and Short break training
Richard is teaching monthly workshops in Northampton and at the lovely IABTC centre at Haxey, email Richard for the workshop details. Richard is teaching one to one private sessions in Grantham and why not stay on site with your caravan for short break having lessons each day, email Richard for details
Facebook
You can now join Richard on his facebook page for upto date news of what is going on. Also take a look at the K9 freestyle dancing dog display team facebook page. Also read the latest Dog world article by Richard in Dog world by buying the newspaper or visit their site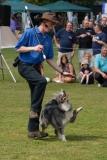 K9 Freestyle dancing dog display team website
Dedicated website for the K9 Freestyle display is www.dogdisplayteam.co.uk. Online video of the dog dancing display team now available, watch how Richard and his top freestyle dogs entertain the audiences by providing arena entertainment at country shows. Many of the dogs have appeared on TV in programmes like Blue Peter, Lights Camera Animals, Richard and Judy plus in 2011 Sky 1 A Different Breed
To find out more about canine freestyle, heelwork to music or dog dancing and how to get started click here