Crufts 2015 Best in show night routine
If you missed the amazing Crufts 2015 routine with Richard, Mary and friends then watch it here https://www.youtube.com/watch?v=Tife9bhvQDo
Crufts 2014
Wow what a Crufts for Richard and Whizzy !!! Performing their new Cleaning windows routine they won the UK freestyle final as well as the International freestyle competition. This makes Richard the only person to win four uk Crufts freestyle finals with three different dogs.
Intensive training holidays
All the training camps have been a big hit in 2015. Many of the people who had booked a place in 2015 have reserved a place on a 2016 camp but there might be a few places so email Richard to be put on the watining list/ In the meantime if you want a individual/small group training holiday staying in your caravan on site with lessons everyday then please contact Richard directly.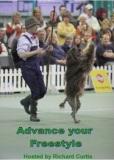 **Training DVDs for freestyle/HTM avaliable NOW**
A series of HTM/Freestyle training DVDs are available in the shop on this website. From The moves which is suitable for anyone starting off in the sport through to Advance your freestyle there is something for everyone at all levels.
Monthly workshops, 1-2-1s and Short break training
Richard is teaching monthly workshops in Northampton and at the lovely IABTC centre at Haxey, email Richard for the workshop details. Richard is teaching one to one private sessions in Grantham and why not stay on site with your caravan for short break having lessons each day, email Richard for details
Facebook
You can now join Richard on his facebook page for upto date news of what is going on. Also take a look at the K9 freestyle dancing dog display team facebook page. Also read the latest Dog world article by Richard in Dog world by buying the newspaper or visit their site